Dash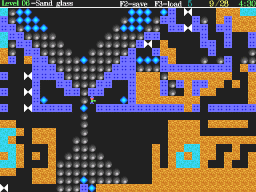 Dash is one of the first programs I've written (1995). If you know "Boulder Dash" for ATARI, Sinclair and other 8-bit computers, it's just the same.
Of course, you will find many differences. To solve all levels (there is about 30 of them) you will have to think much more, since the levels are well designed, with many logical problems and traps. Be sure that you will need to save a game often ...
A level editor is included.
Technologies used:
Links:
Download:

┌─────────────────── LEVELS ───────────────────┐
│sys01 - Simple level                  ON      │
│sys02 - Steel cells                   ON      │
│sys03 - Crazy boxes                   ON      │
│sys04 - Wall streets                  ON OT   │
│sys05 - Lift of death                    OT   │
│sys06 - Sandglass                        OT   │
│sys07 - Jewel stairs                     OT   │
│sys08 - No boulders at all               OT   │
│sys09 - Diamant bath                     OT   │
│sys10 - Figures                       ON      │
│sys11 - Labyrinth                        OT   │
│sys12 - Think out first..                OT   │
│sys13 - Dangerous corridors           ON      │
│sys14 - Stocks                        ON      │
│sys15 - Watch the time                   OT   │
│sys16 - Columns                          OT   │
│                                              │
│aqa01 - Volcano                       ON      │
│aqa02 - The butterfly mill            ON OT   │
│aqa03 - Use the water                 ON      │
│aqa04 - Escalator                     ON      │
│aqa05 - Don't move                       OT   │
│aqa06 - Water walls                   ON      │
│aqa07 - Mainly use bombs              ON      │
│aqa08 - Think ...                     ON      │
│                                              │
│flt01 - Nuselska 56                      OT   │
│flt02 - Duchcovska 289/91             ON OT   │
│flt03 - Nad Kajetankou 26                OT   │
│                                              │
│zvl01 - Beznadej...                      OT   │
│zvl02 - Diamanty...                      OT   │
│zvl03 - Utok !!!                         OT   │
│zvl04 - Nekonecny pas                    OT   │
│zvl05 - Utec !                        ON OT   │
│zvl06 - Chodby vodou ...              ON      │
│zvl07 - Presypaci hodiny                 OT   │
│zvl08 - Vodni hrad                    ON      │
│zvl09 - Very hard bomber man          ON      │
│zvl10 - Runnin'                       ON      │
│zvl11 - Save the diamond              ON      │
│zvl12 - Hlinene chodby                ON      │
│zvl13 - Cednik                        ON      │
│zvl14 - Do nothing! Quickly!          ON      │
│zvl15 - Dungeon                       ON      │
│zvl16 - Explode                       ON      │
│                                              │
│luk01 - Lilie                      LK         │
└──────────────────────────────────────────────┘
┌─────────────────── CHEATS ───────────────────┐
│GRAVITY  - reverses gravity                   │
│SRANDO   - immortality                        │
│STUJ     - stops butterflies and water        │
│BOOM     - player explodes and does not die   │
│SPEED    - increases game speed               │
│MASSO    - all butterflies explode            │
│POWERAGE - increases remaning lives to 99     │
│JEWELS   - turns water into diamonds          │
│HEAVY    - butterflies loose ascent ability   │
│LWARP    - jump to any level by name          │
│CASPER   - walk through walls                 │
│STIME    - freezes the remaining time counter │
│TERMIX   - the world is shuffled randomly     │
│REVIVEME - dead player is resurrected         │
│DICKALL  - all soil dissappears               │
│LOCK     - prevents exiting the game          │
│MK       - places a color mark on a butterfly │
└──────────────────────────────────────────────┘



            OVLÁDÁNÍ DASHEDITU           

┌─────────────── KLÁVESY ───────────────┐
│ Šipky         - pohyb kurzoru         │
│ + levý Shift  - motýl                 │
│ + pravý Shift - označení bloku        │
│ Home          - začátek řádky         │
│ End           - konec řádky           │
│ Enter         - další řádka           │
│ PgUp          - nahoru + doleva       │
│ PgDn          - dolu + doleva         │
│ Del,Backspace - výmaz pole            │
│ F1            - info                  │
│ F2            - uložení do *.dlv      │
│ Ctrl-F2       - uložení jako *.dcx    │
│ Shift-F2      - uložení jako *.das    │
│ F3            - hlavička levelu       │
│ F4            - otevření souboru      │
│ Ctrl-F4       - otevření souboru *.dc2│
│ Shift-F4      - otevření souboru *.dsv│
│ F5            - konverze DLV <-> DCX  │
│ F9            - spusti Dash           │
│ Ctrl-C        - kopírování do schránky│
│ Ctrl-V        - vlepení ze schránky   │
│ Pravý Ctrl-R  - roztřese kurzor myši  │
│ mezerník      - volno                 │
│ H             - hlína                 │
│ Z             - zeď                   │
│ D             - diamant               │
│ S             - start hráče           │
│ E             - exit                  │
│ Q,V           - voda                  │
│ P             - past                  │
│ O             - balvan                │
│ B             - bomba                 │
│ Esc           - konec                 │
└───────────────────────────────────────┘
┌────────────── MYŠ ────────────────────┐
│ Levé tlačítko                         │
│   - kliknutí  - přemístí kurzor       │
│               - na stavovém řádku     │
│                 vyvolá funkci         │
│               - v levém horním rohu   │
│                 - konec A/N           │
│   - stisknuté - označení bloku        │
│ Pravé tlačítko                        │
│   - kliknutí  - změní bod,na kterém   │
│                 je kurzor             │
│               - s levým Shiftem       │
│                 - motýl               │
└───────────────────────────────────────┘