Roof solver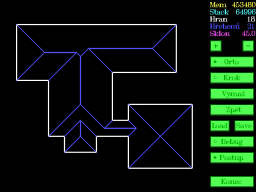 This program is able to compute ridges and display a roof after you have defined the ground-plan of the building.
You can define it using the left mouse button, when it is done, you can close it up by pressing the right button. Of course, sides may not be only rectangular (try pressing ORTO button), but program can handle only the roofs defined by the single closed-up line.
You may save your ground-plans to file, and there are already some predefined for you.
I wrote this program as a final work in the winter term in the 1998/99 school year at the university.
Technologies used:
Download: